Space Air Temperature Sensors


Space Air Temperature Sensors with a New High Ventilation Design has ventilation slots 50% larger than some competitors allowing more air to flow past the sensor providing faster response and more accurate readings.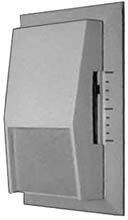 Our Space Air Temperature Sensors new two piece construction is more convenient to install than the the older three piece construction still used by some suppliers. Our ABS plastic molding is fire retardant.

We mount the sensing element and a "Phoenix" terminal strip securely on a circuit board.
Local Setpoint override is available with our integrated slide potentiometer. This provides a variable 1 to 11K resistance signal at built-in terminals. A DDC panel could change the setpoint by ±3 degrees dependent on the resistance value. Specify option SS.
Space Air Temperature Sensors are available in thermistor, platinum RTD and 4-20mA models.



Data Sheet | Installation & Operation | Space Air Temperature Sensors Large Format | Order Online