Flex-Cable Averaging Sensor from Enercorp Instruments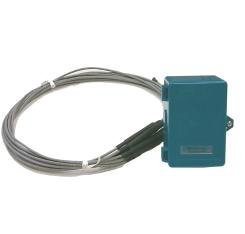 Our Flex-Cable Averaging Sensor is constructed using CSA rated FT6 plenum cable. Numerous sensors are encapsulated in sheaths at equal distances along the length of the cable. The complete assembly acts as a single temperature sensor and any temperature change is averaged across the sensors. The Flex-Cable Averaging Sensor can easily be strung to fit any size duct. This Flex-Cable Averaging Sensor is less expensive and often easier to install when the rigidity of our Copper Averaging Probe is not required.
For lengths up to 12 feet or for most economical applications, we average the readings of four encapsulated sensors. For 24 foot probes and more demanding applications, we use nine sensors spaced along the length of the cable.
Our molded case with hinged cover is easy to install. The cover is fastened with one captive screw. Provision is made for a front identification tag. The back is completely smooth so it fits flush against the mounting surface. Circuit board slots inside are designed to accept a 2-wire transmitter if required.

| Data Sheet | Installation & Operation | Order Online