Pipe Sensor With LED Readout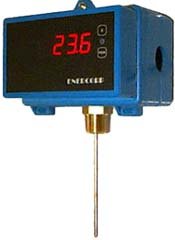 Easy to read pipe sensor

The LED option adds a high intensity red LED digital indicator to our Pipe Sensor for displaying local temperatures. This can be very useful in retrofit work when glass thermometer wells are re-used for HVAC sensors. Previously it was either expensive or impractical to shut down a section of the physical plant while an extra well was welded in.
Now we have combined two sensors in the same sheath one connected to the indicator and one thermistor or RTD of your choice to connect to the control panel. If an RTD is used it can optionally be connected to a 4-20mA transmitter located in the same housing.

Jumpers on the circuit board permit field changes from Fahrenheit to Celcius and permit the 10ths of a degree indication to be converted to full degrees only.

| Data Sheet | Installation & Operation | Order Online