Brass Plate Temperature Sensors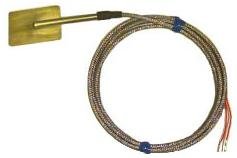 Accurate easy to install pipe sensor
When you need to measure the temperature of a pipe's contents and no thermowell is available this is the solution. Simply add a little heat transfer paste to the smooth side of the brass plate and fasten the assembly to the pipe with a hose clamp. The 9 thou thick brass shim stock plate conforms readily to even small diameter pipes. Then cover the whole assembly with insultation, running the lead wire to a nearby junction box.
The brass plate will provide excellent heat transfer from the pipe to the sensor sheath which we silver solder to the plate. The 3/16" OD sheath is smaller than our normal strap on sensor to promote rapid heat transfer.
The stainless steel braided lead wire jacket provides good abrasion resistance.
Available in thermistor, RTD and 4-20mA versions.

| Data Sheet | Installation & Operation | Order Online