Commercial Gas Detectors, Analog Transmitters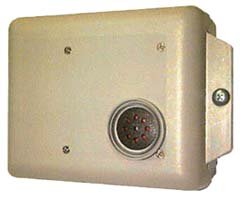 AST Series Analog Transmitters are cost-competitive, Commercial Transmitters, utilizing two different, field proven, reliable sensor technologies for a wide variety of gas detection applications. They are supplied in a very rugged, corrosion resistant polycarbonate enclosure with a hinged door and accompanying transmitter circuit.
They produce a linear 4-20 mA current signal suitable for input to any DDC building management system or any generic analog controller. They provide continuous quantitative measurement information for the gas or vapour they have been calibrated to detect. These transmitters are intended for use in continuous monitoring, non-hazardous classified areas such as underground parking facilities, service garages, ambulance parking bays, loading docks, arenas and refrigerant machinery rooms.
The circuits are linear and protected against shorting on the input terminals. These transmitters feature an extremely simple, two-step procedure for calibration, utilizing only one concentration of calibration gas. The polycarbonate enclosures, housing these sensor / transmitters, come standard with three conduit entry ports for easy installation.
AST-8000 series transmitters incorporate wide spectrum solid-state sensors with a life expectancy of 5 years or more. They operate on 24 VDC or 24 VAC input voltages with a 100mA current draw. They are temperature compensated and operate from 0 to 90%rH non-condensing. They are more economical and have a longer life than the AST-7000 series but are less accurate.
AST-7000 series transmitters incorporate high quality, extremely accurate electrochemical sensors accurate to 1 ppm and are quite specific for the toxic gas they have been designed to detect. They have a life span of 2 - 3 years and operate on 24 VDC with a 50mA current draw. They operate from 15 to 90%rH non-condensing.